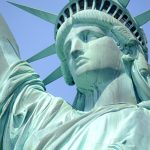 The U.S. Department of State has announced that the Diversity Visa Program for 2018 will open October 4, 2016, and conclude on November 7, 2016.

Fifty thousand diversity visas, or greencards, are available through the 2018 program.

The Diversity Lottery program (DV program) was created to encourage and facilitate increased immigration from countries not largely represented in the pool of U.S. immigrants. Most immigration opportunities are only available to foreign nationals closely related to U.S. citizens or permanent residents, or those being sponsored by U.S. employers. It is very difficult for foreign nationals with such connections to qualify for U.S. permanent residence.
The DV program provides one more avenue to immigrate, without the need for a family member or employer to sponsor them. However, the DV program is only available to natives of certain countries. Country eligibility is determined by the numbers of immigrants from a country, over the last five years. Those countries from which there were more than a total of 50,000 immigrants during the previous five years, are not eligible. This year, countries NOT eligible for the DV lottery include: Bangladesh, Brazil, Canada, China (mainland-born), Colombia, the Dominican Republic, El Salvador, Haiti, India, Jamaica, Mexico, Nigeria, Pakistan, Peru, the Philippines, South Korea, the United Kingdom (excluding Northern Ireland) and its dependent territories, and Vietnam.

However, even if someone was born in one of these ineligible countries, they could possibly still qualify. One way is if an applicant has a spouse who was born in an eligible country. The second way is if an applicant has a parent who was born in an eligible country, AND the parent(s) were not legally residing in the ineligible country where the applicant was born, when the applicant was born.

In addition to being from a qualifying country, or chargeable to qualifying country, applicants must also meet an education or work experience requirement. Applicants must have either:



a high school education or its equivalent, OR


two years of work experience within the past five years, in an occupation that requires at least two years of experience or training.


Applicants apply online, directly through the U.S. Department of State website, at
dvlottery.state.gov
. Only one application per person, and they do not accept any paper entries. There is NO cost to apply. Applicants should be wary of fraudulent websites. All of the instructions for how to apply online will become available on the official website. ?The U.S. State Department advises applicants to apply early during the application period, as the website can crash towards the end of the filing deadline.
The lawyers of
Seaport Law Group
have helped people individuals from all over the world apply for various types of green card applications. Please contact us to discuss your immigration matter.